The Founders Room
Conferences
Events
Film
Launches
Meetings
Performances
Private Function
Rehearsals
Workshops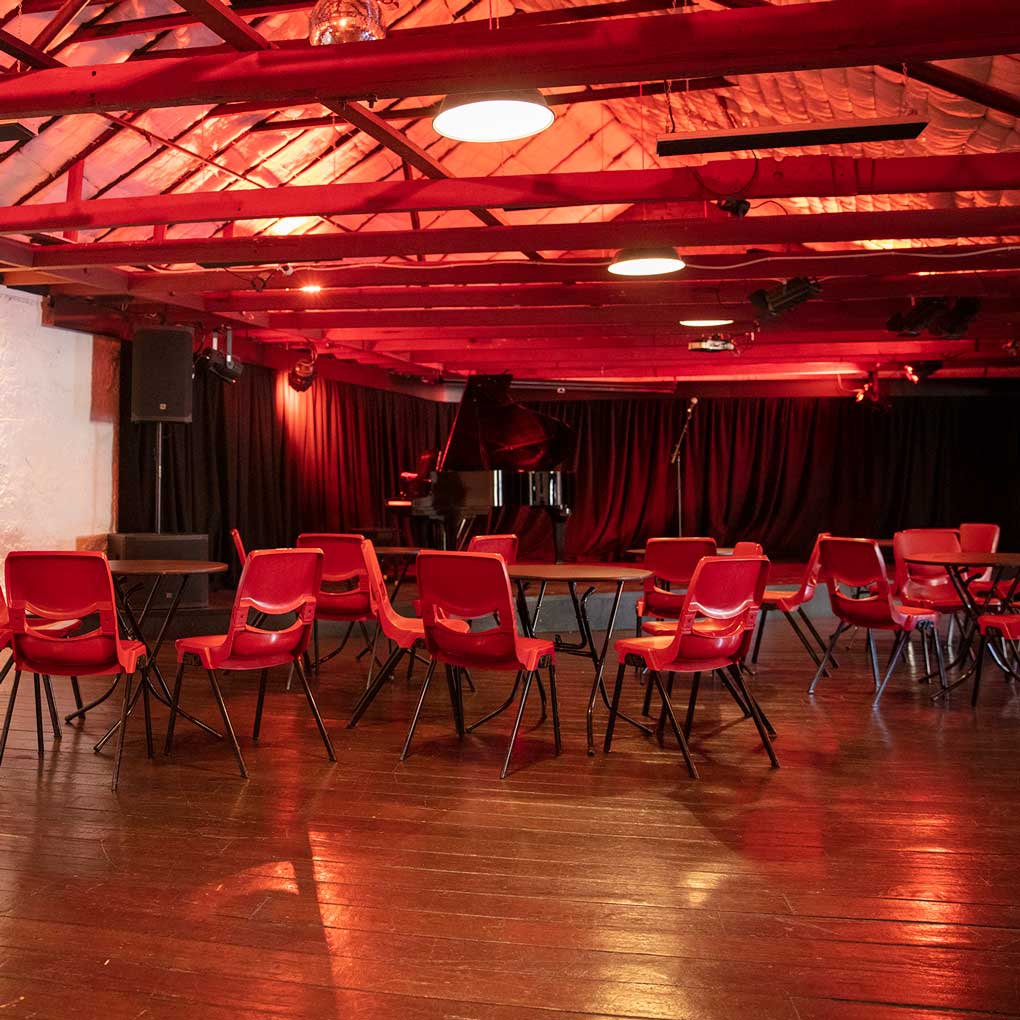 Nestled beneath the vaulted gables of an 1840's warehouse is the Founders Room. With polished oaken floorboards, limewashed sandstone walls and heritage windows that look out over the SAC Courtyard on one side and Woobys Lane and Salamanca Square on the other.
Dedicated to the Founders of Salamanca Arts Centre, this is the perfect location for performances, wedding receptions, cocktail parties, seminars, training sessions, launches and promotional events.
In addition to the Venue Hire Program, in January 2022 Salamanca Arts Centre launched the Live Music Program to support the local music industry. Each Thursday, Friday and Saturday evening the Founders Room showcases performances by local, interstate and international musicians and artists. The curated program is diverse, featuring a range of genres, from jazz to experimental music.
From January 2023, the type of event / usage / activation of the Founders Room is determined by the following weekly calendar:
Monday – Wednesday : Available for Workshops and Non-Public activities, including Meetings, Rehearsals & Creative Developments.
Thursday – Saturday : Public Activities / Events / Performances.
Sunday : Venue CLOSED
---
Venue Hire Rates
Not for Profit / Educational Institutions / Schools / Rehearsals:
$165 per Half Day (maximum 6 hours) / $255 per Day / $1,095 per Week
Commercial / Government Departments:
$225 per Half Day (maximum 6 hours) / $355 per Day / $1,540 per Week
Venue Hire Package Private Functions / Events* (includes weddings, dinners, parties, conferences etc.)
$1,540 per event (maximum Hire Period of 3 Days)
Venue Hire Package for SAC Supported Local / Touring Performances*
$225 per event (maximum Hire Period of 1 Day)
All prices are inclusive of GST and valid from 28 September 2022.
---
Applying for the Founders Room : 2023 Calendar
Salamanca Arts Centre (SAC) is currently seeking applications for inclusion in the Founders Room 2023 Calendar : from February – December 2023.
This Call for Applications is for REMAINING DATES only; some months in the 2023 Calendar are heavily booked.
Applications are sought for both the Hire of the Founders Room and also for Performances / Concerts for inclusion in SAC's 2023 Live Music Program and Performing Arts Program.
Applications are sought for both Public Events and Activities, including Performances, Live Music Events and Concerts, Film Events, Workshops, Launches etc. and Non-Public / Private Events and Activities, including Corporate Events, Private Functions, Rehearsals and Creative Developments, Meeting, Workshops and Seminars.
Deadline for Submissions :
Applications can be submitted at anytime
Applicants will be notified of the outcome of their application within 10 x Working Days of Submission.
---
Availability
Applications for March – December 2023 are now open.
Applications for the 2024 Calendar will reopen later this year.
To be notified of the next Call for Applications for the Founders Room, including for special rounds (as a result of cancellations etc.) or for dates from 2025 onwards, please complete the form below via the alert me button and you will be contacted once the next Call for Applications opens.