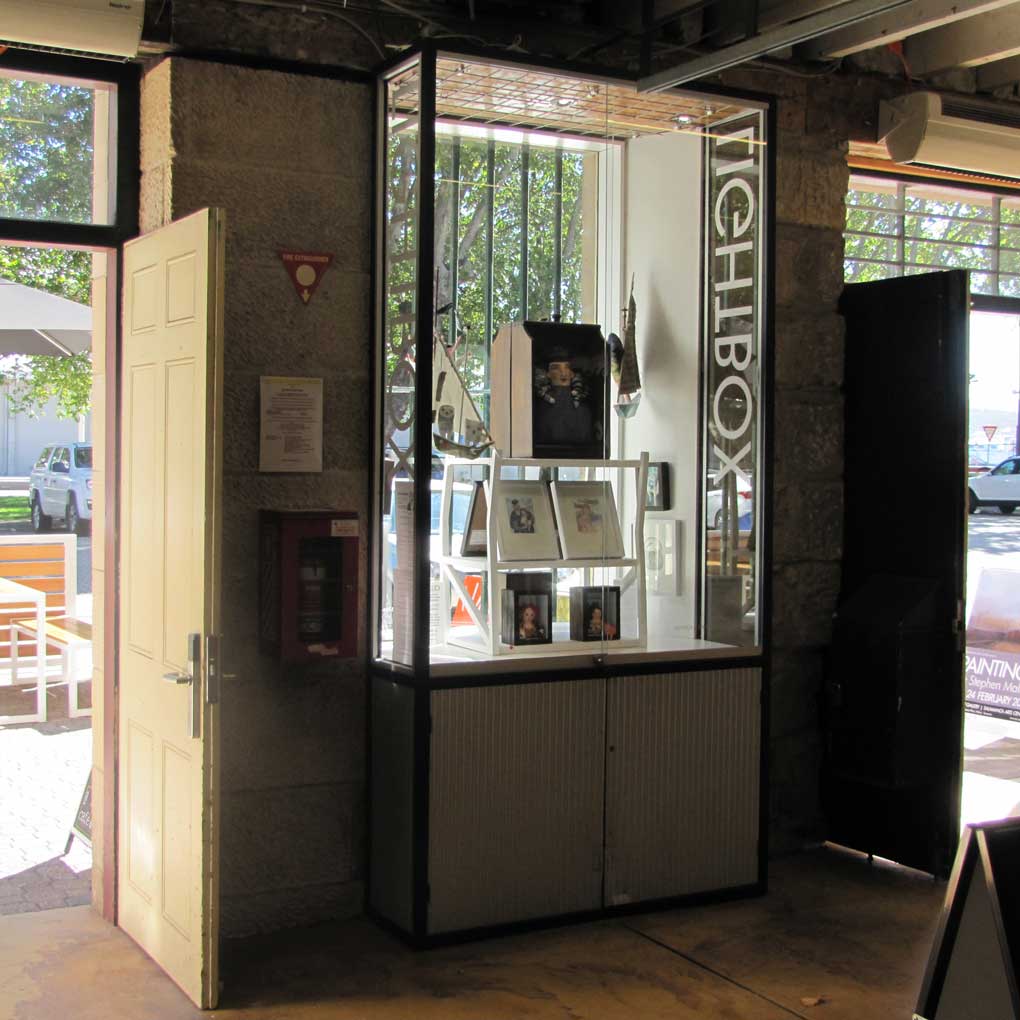 Salamanca Art Centre's most intimate venue, encountered even before passing through the front doors.
Commanding the best public location in Salamanca Place, the Lightbox is a square metre of window space available to selected artists to install works that utilise the attributes of this special exhibition space. This gallery is part of Salamanca Arts Centre's subsidised Access Galleries Program and is available to Salamanca Arts Centre's Associate Members and Resident Artists.
The Lightbox is a window space located at the main entrance to the Salamanca Arts Centre on Salamanca Place, and can be viewed 24 hours a day.
Salamanca Arts Centre encourages artists to interpret the space with installations that best reflect the Lightbox dimensions and location.
---
Venue Hire Rates
Exhibitions
The Lightbox is a free space available for month long exhibitions for Salamanca Arts Centre Associate Members and Salamanca Arts Centre Resident Artists only.
Availability
The Lightbox Calendar is full for the remainder of 2023.
Applications for the 2024 Calendar will reopen later this year.
To be notified of the next Call for Applications for the Lightbox, including for special rounds (as a result of cancellations etc.) or for dates from 2024 onwards, please complete the below form via the alert button below and you will be contacted once the next Call for Applications opens.
---
Applying for the Lightbox : 2024 Calendar
Salamanca Arts Centre assesses applications for the Lightbox twice annually, with application rounds occurring in April and September each year.
Salamanca Arts Centre is currently seeking applications for inclusion in the Lightbox 2024 Calendar. This round is for remaining dates only; not all dates within 2024 are available, but Salamanca Arts Centre shall endeavour to offer applicants' preferred dates where we can.
Applications are sought from Arts Organisations and solo artists for small-scale installations.
Applications can be submitted via the link below.
Applications close Monday 2nd October 2023.
Applicants will be notified of the outcome of their application in November 2023.