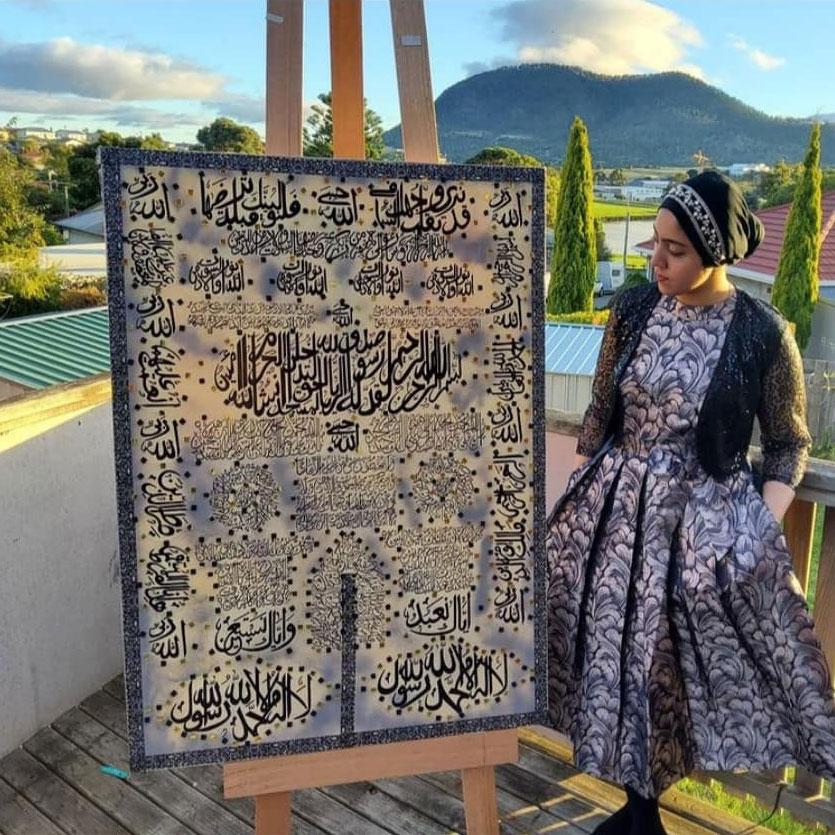 Halima is an Arabic Calligraphy visual artist.
Halima is an Arabic Calligraphy Artist from Lahore; Pakistan. Her artwork reflects deep connections and
sacred knowledge with every stroke and letter. Halima creates art that is deeply lyrical, spiritual,
and calligraphic.
Honing her skills as a calligraphist during the pandemic lockdown, Halima modulated the ancient art with a unique contemporary touch. Her paintings are deeply poetic and are seeped in meditational practices, where she creates intricate patterns in her work which draws from Arabic and Urdu quotations and verses from Holy Quran and Sufi poems, by which she expresses the element of peace and connectedness in her paintings.
Halima has been an artist in residence at Youth Arts and Re-creation centre, where she presented her debut exhibition "The Butterfly Effect" with the launch of the YARC Gallery (2021) and have recently moved to her studio in Salamanca Arts centre. She has presented her arts at various venues and shows as Winter Light Festival (UTOPIA NOW), Light up the lane, Hobart Artists market, Royal Hobart Art Show, Minds do matter Arts exhibition, Story Telling Festival, and now actively facilitating Arabic Calligraphy workshops at various venues, designed for community cohesion to promote inclusivity, belonging and connectedness.
Halima is also a Medical Research student (UTAS) and is currently working as Admin Officer at Mental Health State services. Halima is passionate about Mental Health awareness, where she wishes to correlate the brain research to her artworks as an ultimate art-therapy. Her work delves into universal values of love, faith prayer and tranquillity that integrate feelings and pictograms through distinctive strokes and lettering, that remains a manifesto inspired by classic Islamic Art. As an artist and thinker, Halima aspires to spread a positive influence of unity and balance through her work, that go on to create emotional bonds with eternity, empowering the heart, body, and soul, and believes that her artworks are gifts to be shared.