Finucane & Smith's Travelling Dance Hall!
Finucane & Smith Unlimited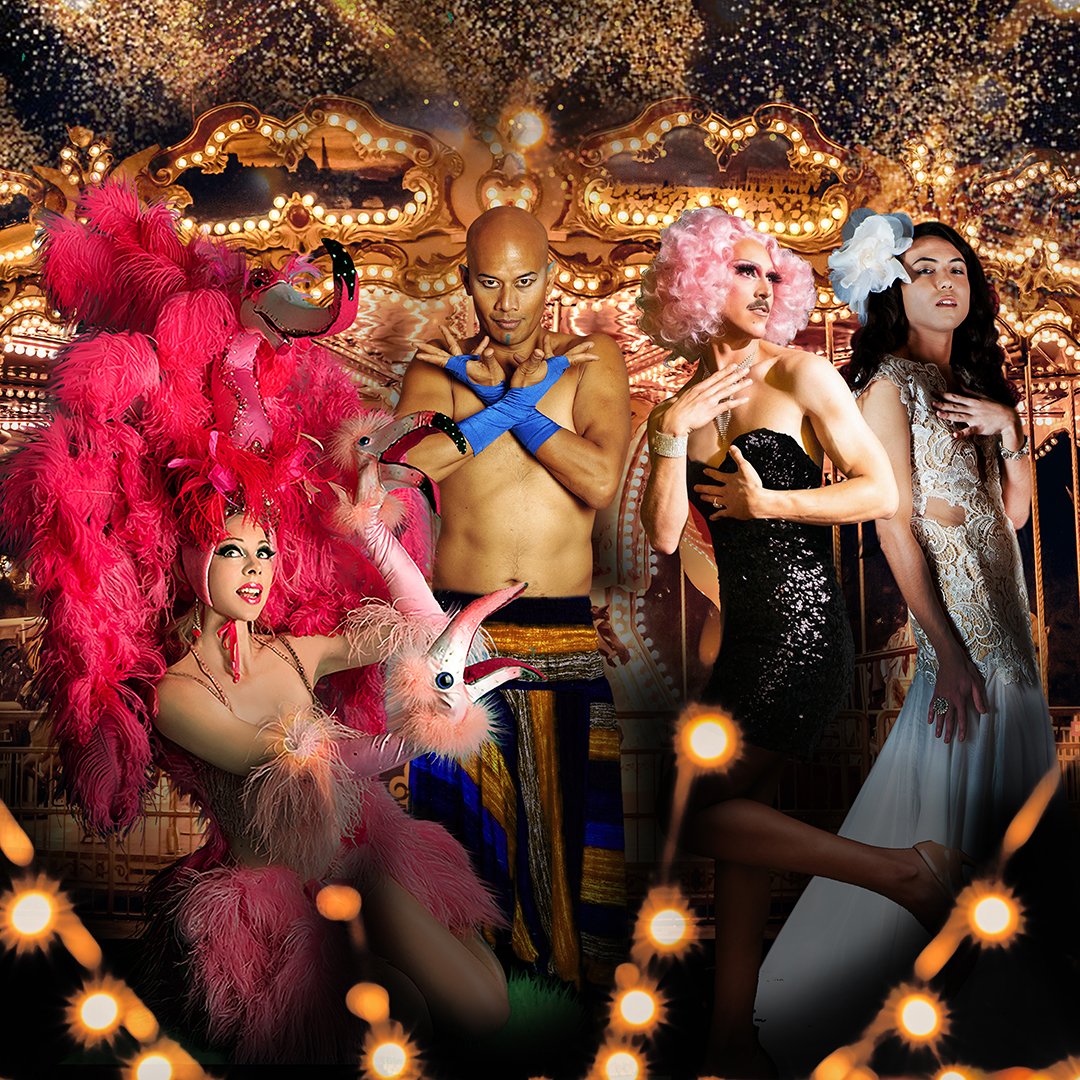 This event is part of Winter Light 2022 and is presented by Salamanca Arts Centre
Every Body Dance!
From the multi-awarded creators of world-famous variety shows Burlesque Hour & Glory Box; the troupe that led the longest Australian tour of variety since the gold rush (Caravan Burlesque's 8 months of dancing ovations) comes Finucane & Smith's Travelling Dance Hall! The nationwide tour of the smash-hit, dancing in the aisles, not to be missed community celebration, is coming to town!
Global talent, irresistible music, festoons and fan-dancing, torch songs and hot moves, glittering Indian boylesque, stunning circus & local guests light up the stage! Dance Hall celebrates the beauty of community under twinkling lights, velvet drapes, satin table seating… and disco fever!
After barnstorming 18 countries, playing for 600,000 fans, winning 15 theatre awards, 8 cabaret awards and Cuba's International Presentation of the Year, Finucane & Smith are careening into town to blow your COVID blues away!
So grab your friends, book a table, throw on your glad-rags, and get ready to get down!
[18+ Contains full frontal nudity, haze, loud music and ABBA!]

18 – 20 August 2022
8pm – 10pm
with a 15min interval
---
"Sheer variety and changes of pace ensure there is something to enthral all" ★★★★★Time Out
"Seductive, subversive and bursting at the seams with monstrous talent" ★★★★The Age
"I cannot express how exhilarating and uplifting this show is" ★★★★★ Planet Arts
"All shimmies and wild confidence, humour and brilliance" Theatre Press
"Moira Finucane's gang of disco-pumping glamazons never cease to impress!" Plus Ones
"Mesmerising, extraordinary, impeccably performed" Australia Arts Review
"An Absolute Blast" Yarck Community
---
Whilst the wearing of masks is not mandatory it is recommended in certain situations by Tasmanian Public Health. Masks will be available upon entering the venue for those patrons who would like one.
If you're unwell, it is recommended that you stay at home, and we look forward to welcoming you at Salamanca Arts Centre another time.
---
Finucane & Smith Unlimited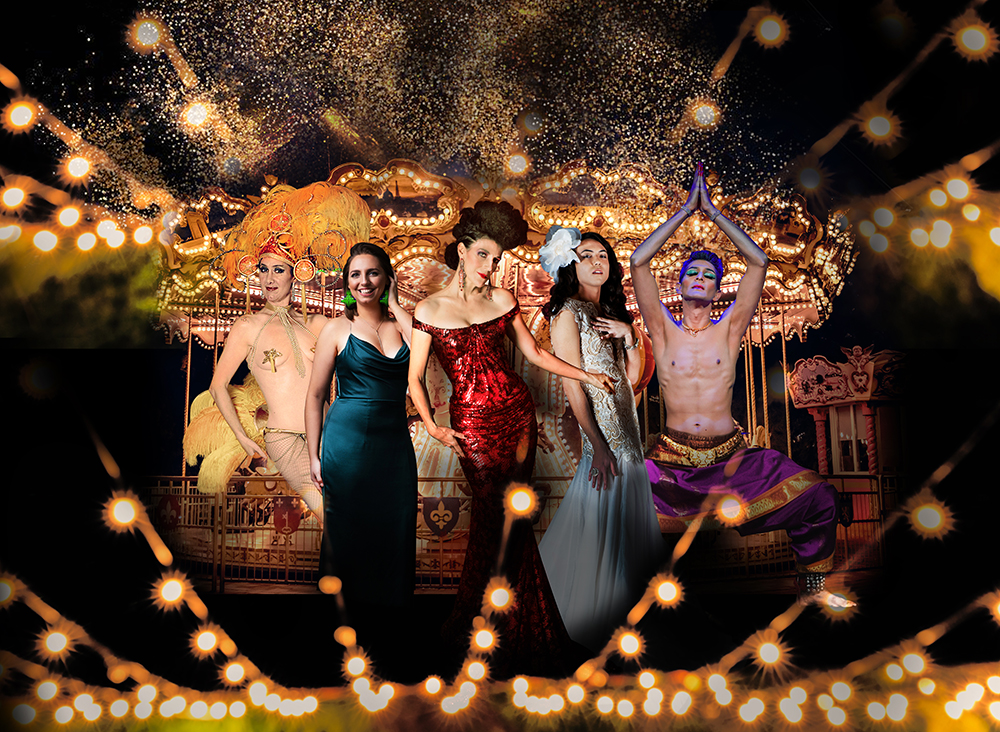 Finucane & Smith Unlimited are Australian legends of Unrealistic Art. With their unique blend of provocation and entertainment, the company works across myriad artforms – from cabaret & burlesque to drama and hybrid and immersive art events; engaging unique and extraordinary artists, and cherishing audiences everywhere as they explore humanity, hope, freedom, power, desire and a shared future.
Finucane & Smith's work has been presented in 18 countries, winning acclaim in 13 languages and 15 awards including The Patrick White Playwright Award, 8 Green Room Awards, International Theatre Institute's CHAMACO Award for International Presentation of the Year 2015 (Cuba), and the Climakaze Award (Miami) for outstanding art in climate justice. Their genre-defining variety works The Burlesque Hour & Glory Box have been seen by 600,000 fans worldwide, becoming the first Australian work invited to major festivals of Latin America, Japan and Europe, and winning awards worldwide.
---
The Artists
---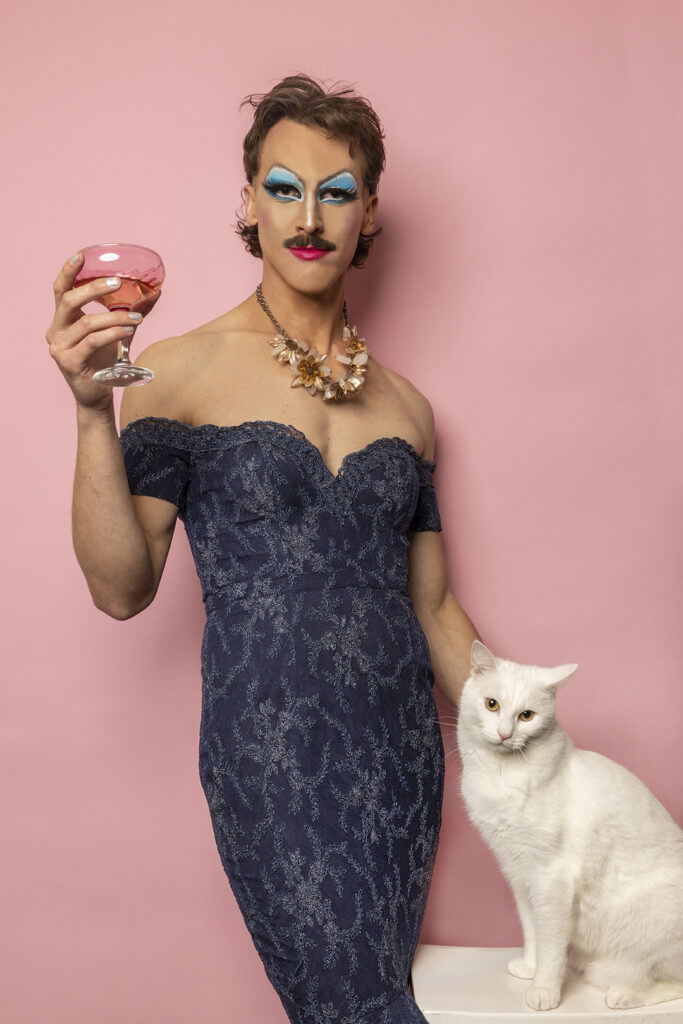 Lachlan (Aka Iva Rosebud)
Lachlan (Aka Iva Rosebud) is an emerging queer artist, known for bringing an old fashioned flair to the modern world. His work spans Cabaret, Music Theatre, Drag, Burlesque and Performance Art.
Hailing from the Hunter Valley, Lachlan is a graduate of the Music Theatre course at The Victorian College of the Arts. In 2021 Lachlan made his mark on Melbourne's cabaret scene, writing and performing his solo shows: 'And I, In My Chair' (Melbourne Cabaret Festival) described as "more than earning it's standing ovation" by the Arts Review, 'At hand with Iva Rosebud' (Melbourne Cabaret Showcases) and 'Iva's Grand Opening' (Tusk High Bar).
Lachlan made his Victorian Opera debut in March 2022, in the Happy End at the Arts Centre Playhouse and is thrilled to be apart of the Finucane & Smith family.
---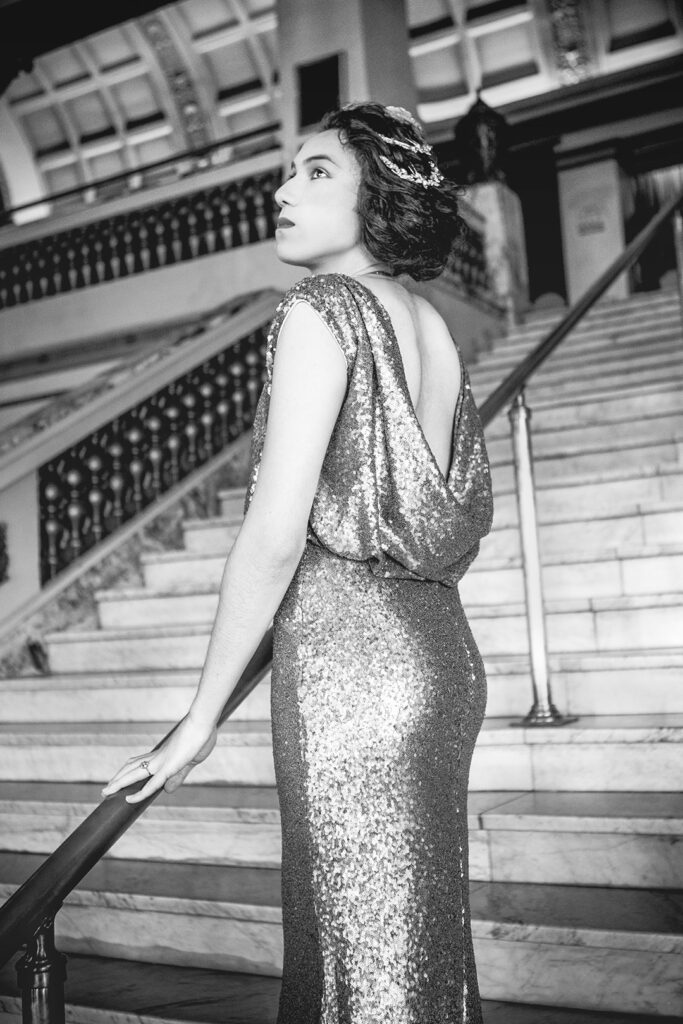 Mama Alto
Mama Alto is a jazz singer, cabaret artiste & gender transcendent diva. She is a transgender & queer person of colour who works with the radical potential of storytelling, strength in softness and power in vulnerability. Best known for her velvet vocals, triumphant cabaret performances and illuminating writing, she is also the co-creator of the highly acclaimed variety cabaret "Gender Euphoria." She has worked with luminaries such as burlesque production house Finucane & Smith, playwright Declan Greene, visual artist Brook Andrew, and performance artist Taylor Mac. Mama is the 2021 recipient of the Australia Council for the Arts Kirk Robson Award for Community Arts and Cultural Development.
---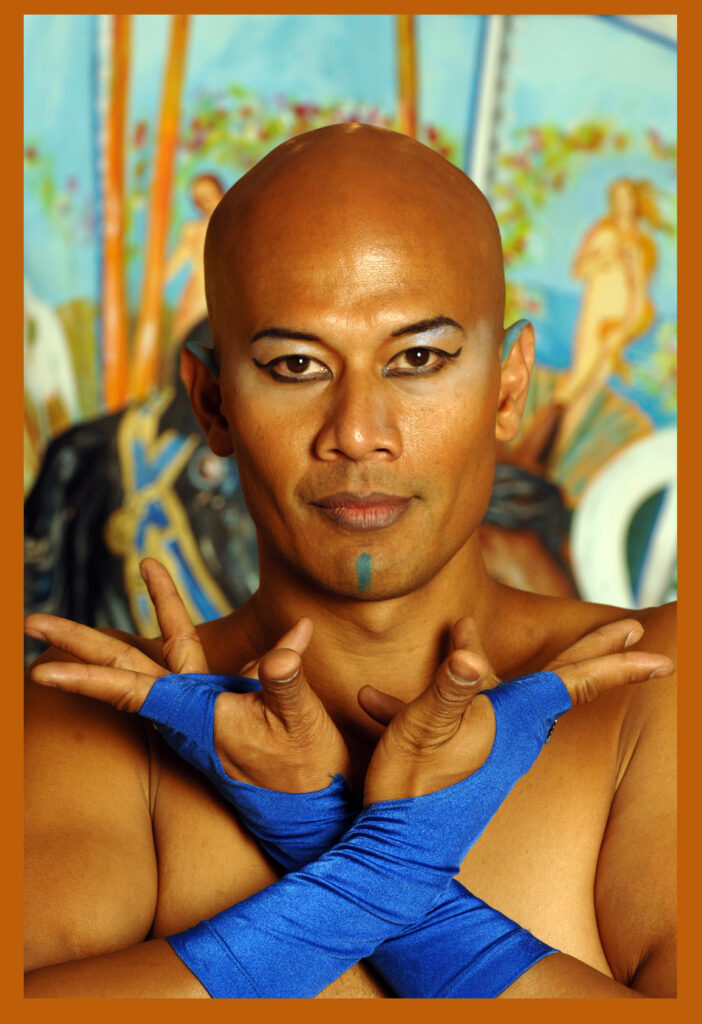 Paul Cordeiro

Paul is an experienced teacher of 20 years, as well as being a qualified fitness instructor. He trained at the Western Australian Academy of Performing Arts, obtaining a Diploma in Dance. Paul has enjoyed an extensive career as a dancer and choreographer, having performed with One Extra Dance Company, Opera Australia and the Balai ensemble. He has toured nationally with the musicals "The King and I" and "West Side Story". Paul was the resident choreographer for "The Lion King" from 2003 – 2005 and was also the assistant choreographer for the "Nature and Arrivals" segment of the Sydney Olympic Games Opening Ceremony in 2000.
A great deal of Paul's work has been working with artists and themes
relating to aspects of diverse ethnic communities and cultural production, within the contemporary social and artistic tapestry. This has included a feature role in 'The House Plus', created by flamenco artist Antonio Vargas for the Carnivale festival, a guest season with the Odyssey Dance Theatre in Singapore, and as an actor, the role of Rosendo in 'Tango Masculino' at the New Theatre in 2007. Recently Paul was the recipient of the Goethe Institute Artist Language Scholarship, which enabled him to spend a month in Berlin learning German.
---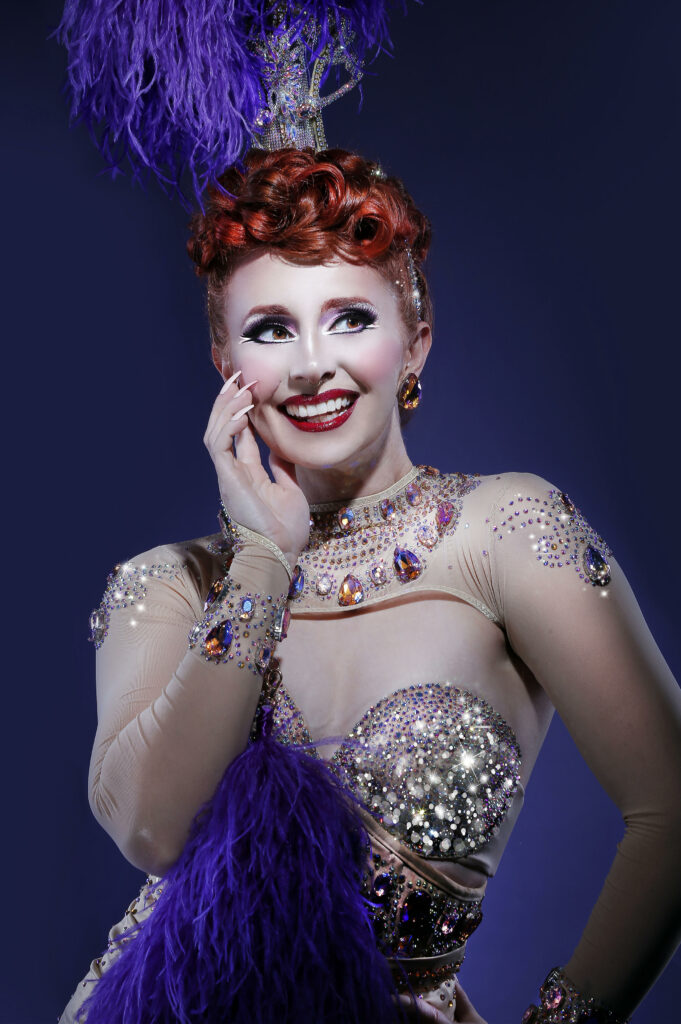 Maple Rose
Miss Maple Rose, known as the "Queen of Classic Burlesque," has been described as the unwanted lovechild of Tempest Storm and Lucille Ball. Combining her professional expertise in costume and set design with her foundation in classical dance, Maple guides many a budding performance artist in the art of tease!
She's here to prove that "classic burlesque" doesn't have to be boring. Either with feather fans or tapping toes, Maple will take you on a deep dive into burlesque history. Headliner of The Australian Burlesque Festival in 2020 & 2022, winner of the the 1st Runner Up crown at Miss Burlesque Australia 2018, voted number 21 in the 21st Century Burlesque Magazine's Top 50 Most Influential Artists of 2021, and voted Best Solo Artist and Most Classic at the Australian Burlesque Industry Awards, The Busties, in 2018.

Maple has shown that she's "Australia's Classiest Piece of Bacon"
with a tornado of feather fans and couture costumes!