Salamanca Jazz
McEntee Weller Quintet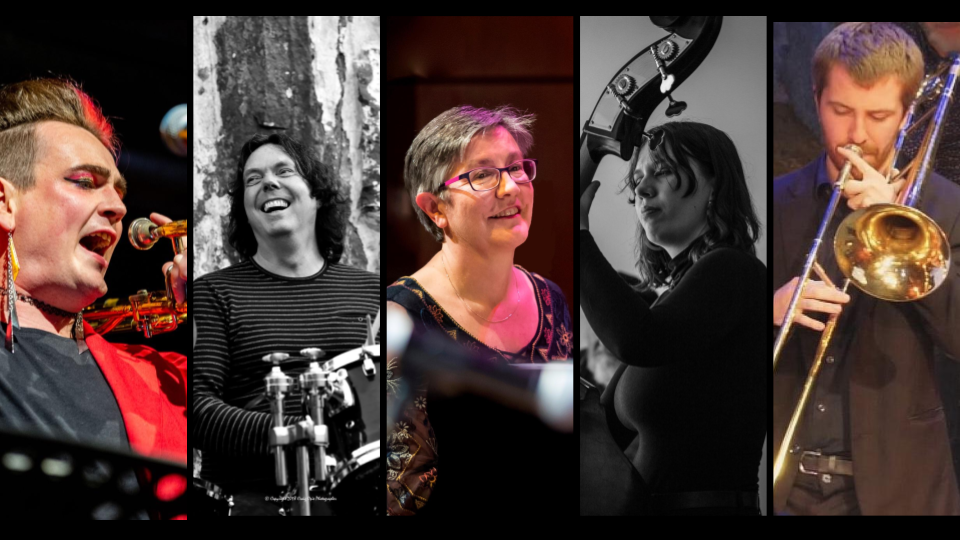 Saturday 19 August 2023
7:30pm – 10:00pm (Doors open at 7pm)
Live @ The Founders Room
Salamanca Arts Centre
Entry via Wooby's Lane, or for lift access enter through The Courtyard

$25 +bf each
$80 +bf for 4 x Tickets

Two of the state's most in-demand jazz trombonists, plus a rhythm section comprising of some of Tasmania's grooviest jazz musos present an evening of gorgeously arranged standards, originals from the band, and a few surprises.
Expect everything from J.J. Johnston to Joni Mitchell, featuring Louise Denson, Joe Weller, Stevie McEntee, Sasha Gavlek and Konrad Park.

The trombone was recently voted Australia's 30th favorite instrument in ABC Classic FM's top 100 instrument competition. Stevie and Joe intend to change Australia's mind, one performance at a time, and are backed by a superstar band of some of Tasmania's finest rhythm section players. Come and hear why we reckon the trombone should be #1 – and experience the gorgeous versatility of this unique and unusual instrument!
Louise Denson – piano
Joe Weller – trombone
Stevie McEntee – trombone
Sash Gavlek – bass
Konrad Park – drums
Doors & Bar open at 7pm
Music begins at 7.30pm
The Founders Room
Salamanca Arts Centre
[ Enter via the stairs off Wooby's lane, or take the lift from the Salamanca Arts Centre Courtyard ]
Tickets are only $25 ea +BF or buy four tickets for only $80 +BF
Louise Denson is a Hobart-based pianist/composer/arranger/educator working in jazz and classical music. She has released seven CDs – Nova Nova (2021) earned 4-stars in the Weekend Australian Review. Completed commissions include Clarence Jazz Festival (2023), Tasmanian Symphony Orchestra (2022), Vera Scarth-Johnson Gallery Association (Cooktown, 2021), Brisbane International Jazz Festival (2018) and others. Her works have been performed/recorded by artists including Viney-Grinberg Duo, Muses Trio, Downbeat poll-winning trombonist Bill Watrous, Bell Award-winning vocalist Elly Hoyt, and Southern Cross Soloists. She is an Represented Artist with the Australian Music Centre and is published by Wirripang.
Joe Weller is a freelance trombonist based in Hobart. At a young age he discovered a passion for playing trombone which led him to undertake studies at the Conservatorium of Music in Hobart and during this time he quickly established himself on the Hobart music scene. He has since gone onto perform and record with many local, interstate and international acts at different festivals and locations all around Tasmania, these include local acts Kudu Joy, Matthew Ives And His Big Band and The Sasha Gavlek Quartet, interstate act Hot Dub Time Machine and the Japanese artist Tomoko Momiyama and festivals such as The Clarence Jazz Festival, Devonport Jazz Festival, Junction Arts Festival, Dark Mofo, Panama and Party in the Paddock. Joe is constantly working on his craft to ensure that he can continue to be one of the first names called whenever a trombonist is needed in Hobart.
Stevie McEntee is a non-binary trombonist, composer, bandleader, festival director and creative producer. Originally from Mount Gambier in South Australia, they graduated with a Bachelor degree in Jazz Performance from the Elder Conservatory (Adelaide) in 2012. By day they work as the founder and artistic director of the Lutruwita Art Orchestra and as the co-artistic director of the Clarence Jazz Festival (Tasmania's biggest jazz festival), and by night they lead Hobart's very own 12-piece all-original Afrobeat-danceband, Baba Bruja, and play trombone in the hugely popular reggae-fusion band Boil Up, regularly collaborating with some of the most loved jazz musicians on the island, as well as writing and conducting music for projects and major festivals across the island of Tasmania. Before relocating to Hobart in 2016 Stevie toured Europe and South-East Asia with Adelaide-based afrobeat legends, the Shaolin Afronauts, and spent two years living and touring in India with musicians and bands from around the world. Stevie has led successful CACD and musical projects that have attracted the support of Arts Tasmania, the Australia Council, the Regional Arts Fund, Regional Arts Tasmania, Creative Hobart (Hobart City Council) and Festivals Australia. They strive to create platforms and opportunities for collaboration with artists from diverse cultural backgrounds and diverse genders and make music that reflects and celebrates the best bits of being human.
A queer femme, lover of soup, Sasha Gavlek is a contemporary bassist, bandleader, composer, and educator hailing from Hobart. With a love for alternative jazz and rhythmic madness, Gavlek pours her soul into her compositions and improvisational work, exploring themes of personal struggles and growth, as can be seen in her debut album, On Second Thoughts. An active member within the island state's music scene, Gavlek is a part of several regularly performing acts outside of her own alt jazz quartet including Kudu Joy, Uncle Gus and the Rimshots, and FFLORA, and is a regular performer at annual events such as Dark Mofo, Mona Foma, Clarence Jazz Festival, A Festival Called Panama, and the Taste of Tasmania to name a few. On a Contemporary Music Performance scholarship, Gavlek graduated from the UTAS Conservatorium of music with a Bachelor of Music in 2019. When she's not performing, she is tutoring bass and providing musical accompaniment across local schools.
Konrad Park is a nationally recognised drum kit artist who is a passionate performer, teacher and composer. He has over four decades of experience backing leading artists including Multi Grammy award winner Lucky Oceans and vocal great Leo deCastro, through to the contemporary music of Brian Ritchie's Shakuhachi Club and the visceral blues power of Billy Warner Band. Konrad studied composition at the University of Tasmania from 2014 to 2020 under Dr. Maria Grenfell. He is equally focused on live performance and his teaching practice, sustaining ensemble and private lessons at Claremont College, Friends and Elizabeth College. Konrad's principal focus as an instrumental tutor, is to expand the students musical grammar and confidence, eventually becoming independent artists who will forge their own individual path. He continues to perform original live instrumental music, directing his many ensembles in a variety of styles. These include modern jazz with the Konrad Park Quartet, Big Small Band (hard bop), The Schwing Thing (post fusion electric jazz rock), Simon Patterson Trio (modern jazz).
Konrad lived in Melbourne from 2008-14, experiencing highlights such as backing David Campbell and Marina Prior for the MSO. He recorded at the ABC for Mal Stanley's Jazz Track program, with the Tim Neal Trio, a Hammond organ featuring Simon Patterson on guitar. Konrad's studies at UTAS have greatly furthered his musical aims and compositions skills. He writes from his second instrument, the Chapman Stick, a ten-string tapping instrument. As a UTAS student, Konrad has been able to write more prolifically for his various ensembles. As a Chapman Stick artist, Konrad aka Stickrad, writes and performs his compositions with Stickrad Quintet, to audiences in search of a new listening experience. As co-artistic director of Southern Stick Events, Konrad brought international "Stickists" Bob Culbertson to Australia three times since 2007, for teaching seminars and Stick Night concerts. Konrad continues to compose and have a performance career on the Chapman Stick. A collaboration with the internationally acclaimed drum kit artist Terry Bozzio, is planned for 2025 culminating in a work for concert band, extended modern drum kit and Chapman stick. Konrad is now based in Hobart, Tasmania and continues to back local and interstate artists from a wide variety of backgrounds. Konrad's musical diversity allows him to contribute on multiple fronts, to Tasmania's dynamic and rich musical legacy.
Live Jazz is part of Salamanca Arts Centre's Public Program, and is supported by the City of Hobart's Cultural Grants Program.


More Jazz @ Salamanca
Events
Live Music
Performances
Salamanca Arts Curated
Salamanca Jazz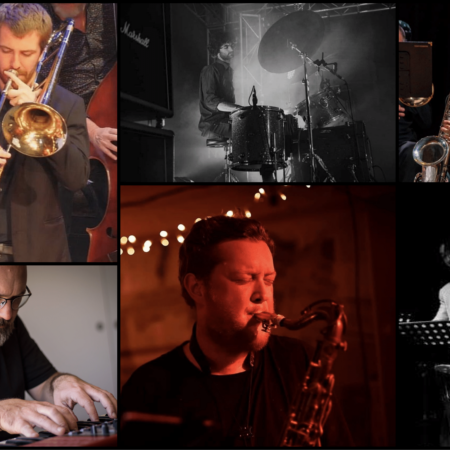 Nugent Sextet – Mingus Ah Um Live
Saturday 30 Sep 2023
Founders Room
View event
Events
Live Music
Performances
Salamanca Arts Curated
Salamanca Jazz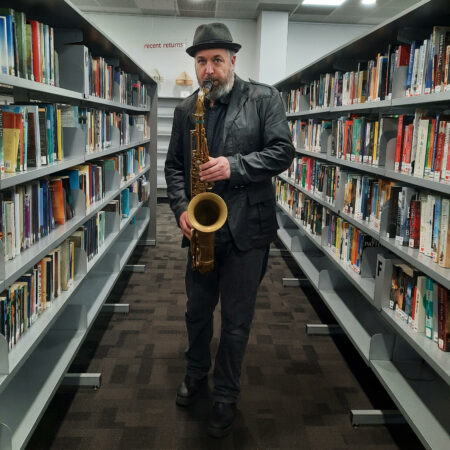 The Spike Mason Quartet
Saturday 21 Oct 2023
Founders Room
View event
More Live at the Founders Room 2023
Events
Live Music
Performances
Salamanca Arts Curated
Salamanca Jazz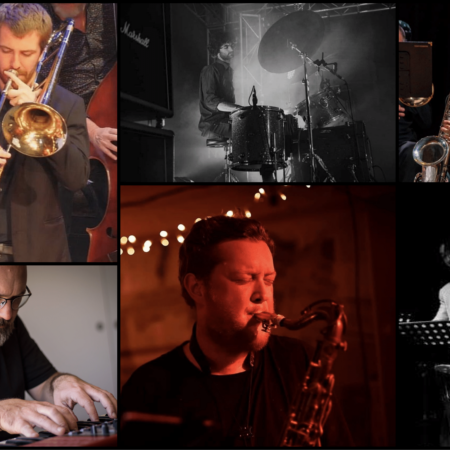 Nugent Sextet – Mingus Ah Um Live
Saturday 30 Sep 2023
Founders Room
View event
Events
Live Music
Performances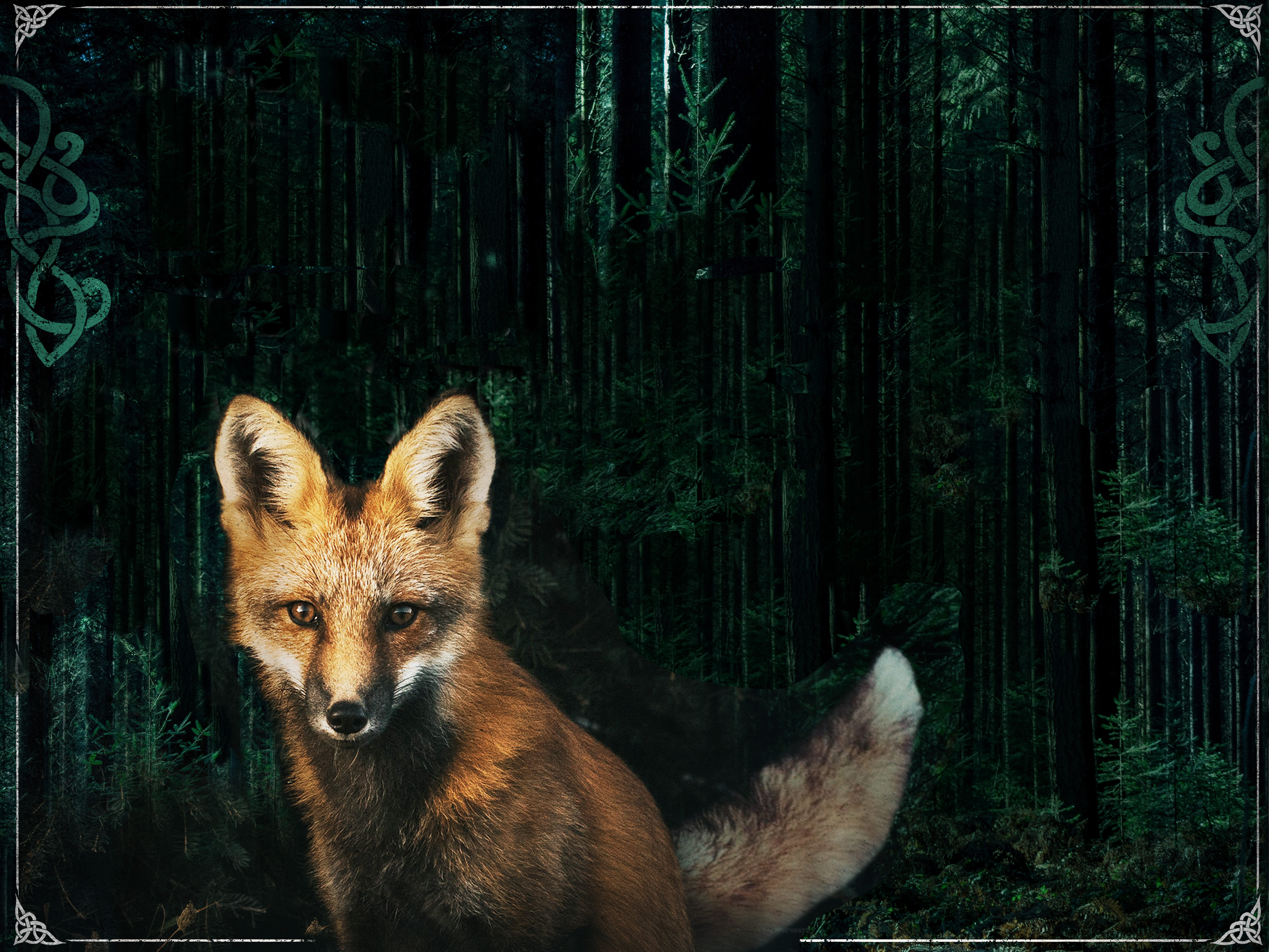 Sionnach Ruas Great Irish Songbook
Thursday 16 Nov 2023
Founders Room
View event