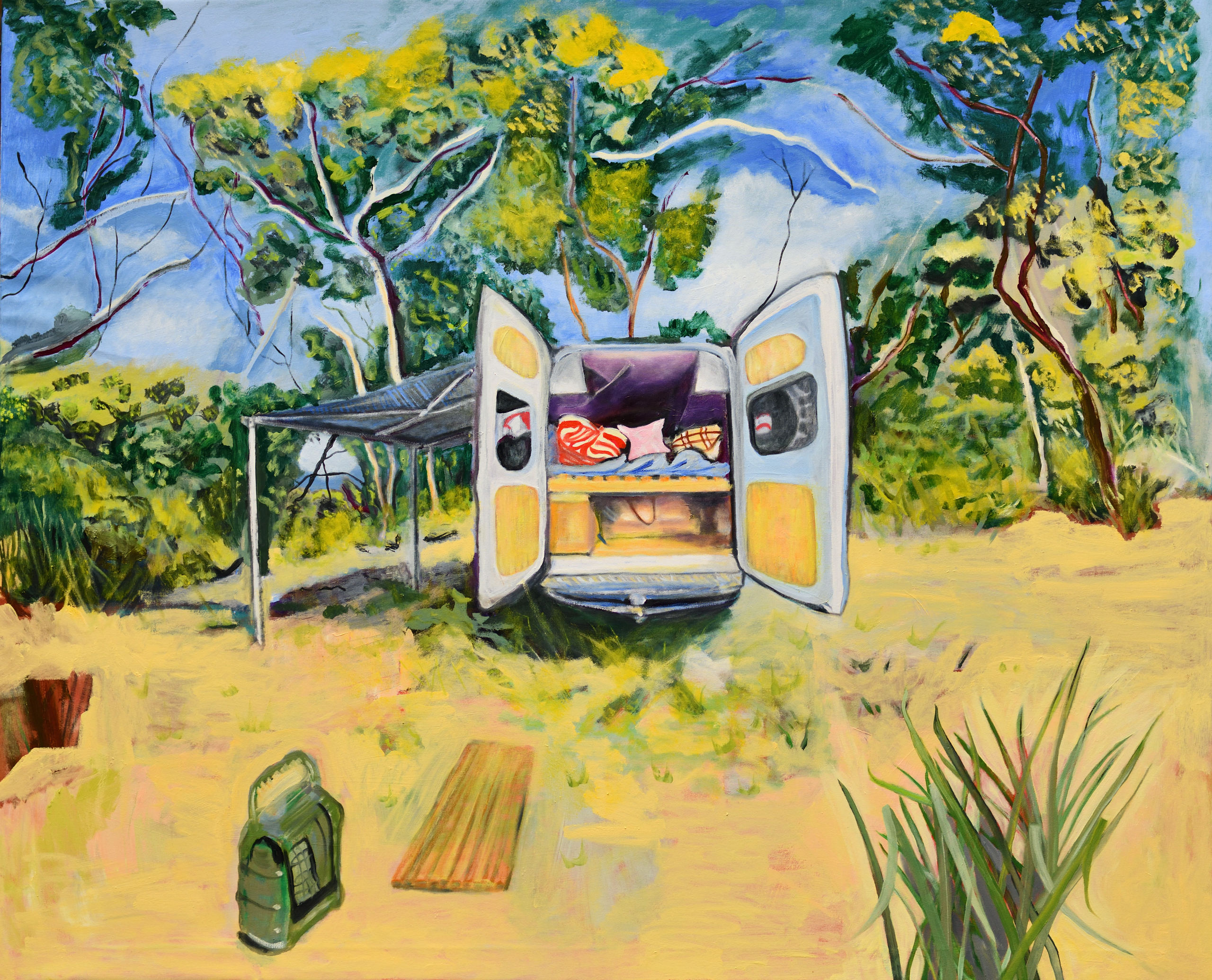 ---
Opening Event
Friday 3 March 2023
5.30pm – 7.30PM
Exhibition to be opened by Joe Bugden, CEO SAC and Dr Niklavs Rubenis, UTAS
Sitting on chairs in liminal spaces and looking through doorways to another place or time

I acknowledge the Tasmanian Aboriginals, the first owners of lutruwita/Tasmania who never ceded sovereignty yet looked after this island so well. I pay respect to their elders – past, present and emerging.

The word "Restless" sums up contradictory feelings of desiring escape, hesitation, and nomadic life, not always voluntary. In a matter of weeks, I move to the big island, so this is a post lockdown moment of physical, personal and artistic expression of a preference for constancy of change in one's life over routine predictability.

Last year I began painting chairs focusing initially on the flimsiest of chairs, a foldable camping chair and expanded this to include a campervan. I became influenced by visiting family in the Czech Republic last year for the first time to look at dissident and refugee chairs. Through research into Cold War mid-century design of furniture and interiors, I became intrigued by the way that decoration and design applied to what we sit on has bearings on history and politics. Thrones and seating for the rich was highly ornamental and associated with culture and art. Simpler, more streamlined and mass-produced furniture became part of the East/West political competition between capitalism and communism. Hand-made avant-garde furniture appears symbolic of dissidence and rebellion. My painting of the banana lounges used by Ukrainian refugees in February 2022 suggests the connection between dissidents, refugees and the fine line that now exists between homelessness and recreational camping.

Doorways and chairs represent alternative pathways and choice. The historic doorways of the Salamanca Arts Centre have been an inspiration for me during my residency.

I invite you to examine the surface membranes of these paintings of old buildings which began as factories or palaces. Layers conceal and reveal the past as another world, long gone, yet still alive in different forms, and often repeating itself with the constant looping of refugees, gentrification of old buildings and the ironic relationship between travel, invasion and escape.