LIMINAL
Presented by Old Nick Company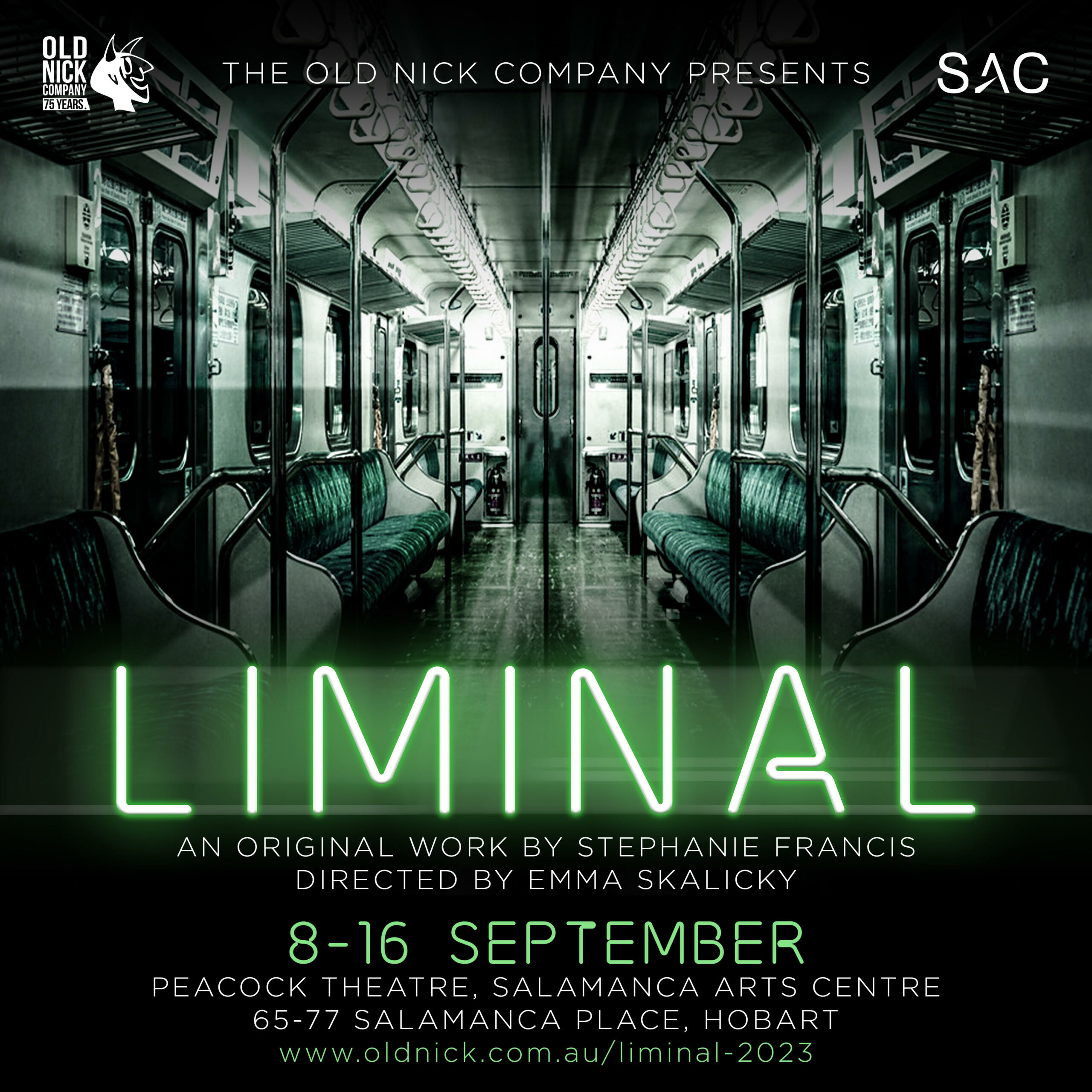 Presented by Old Nick Company
---
Times and dates:
Thursday 7th September – 7.30pm (Preview performance $30 tickets)
Friday 8th September – 7.30pm
Saturday 9th September – 3pm and 7.30pm
Tuesday 12th September – 7.30pm (Cheaper Tuesday $35 tickets)
Wednesday 13th September – 7.30pm
Thursday 14th September – 7.30pm
Friday 15th September – 7.30pm
Saturday 16th September – 3pm and 7.30pm


Tickets:
General Admission: $40
Generous Admission: $45
Concession: $35
Student/Old Nick Member: $30
Group (5+): $150
The Old Nick Company is proud to present an original work by Stephanie Francis, directed by Emma Skalicky
Five strangers.
One train.
Four stops.
One destination.
Mike, a father and husband with cancer, is ready to move on.
Liz is the sole carer of her severely disabled grandson. She's coming to terms with things.
Rachael, a young woman of twenty, is lost and beyond help.
Jake is your typical golden-haired boy on the cusp of manhood. He's made a big mistake.
Toby, his best friend, has said nothing the whole ride.
Some chose to be here.
Others didn't.
All have the choice to move on.
Only one can ride to the end and claim their second chance.
So, who stays and who goes?
Four minutes is a short time for some, but an eternity for others.
Any longer becomes deadly in the liminal space between.

LIMINAL dissects not only on the joys and shortcomings of life, and the torturous relief of death, but what happens in between.

CONTENT WARNING:
This play deals with topics of grief, loss, terminal illness, and suicide. We strive to deal with such topics compassionately and with care, however if you have any questions, please feel free to ask.
---
CAST

Paul Levett (he/him) as Mike

Pip Tyrrell (she/her) as Liz

Gabi Vavoulas (she/her) as Rachael

Ben Stoneman (they/them) as Jake

Paul Dellas (he/him) as Toby

LIMINAL is an original work written by Stephanie Francis and directed by Emma Skalicky
---