Into the Woods Jr
Musical Theatre Crew | Intermediate Performance Ensemble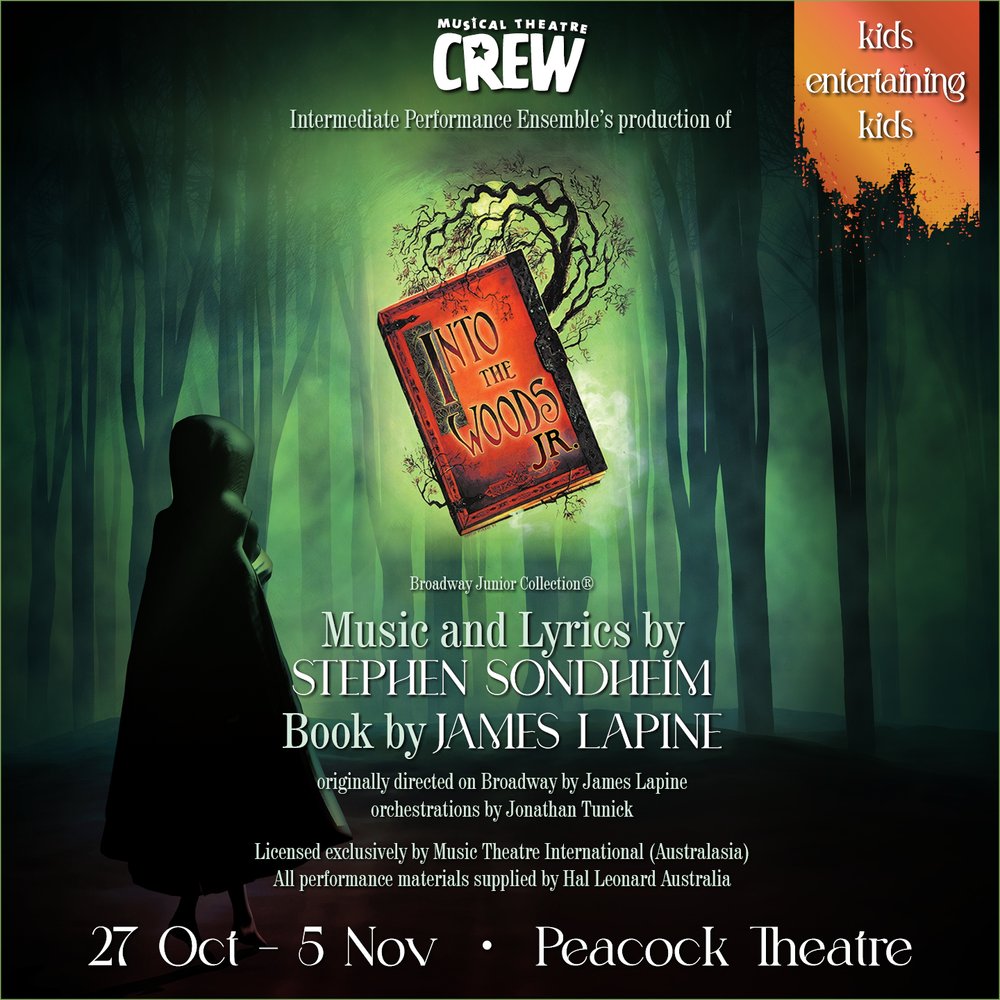 Be careful what you wish for… you might just get it!
Wishes, spells, curses and adventures abound along with marvellous singing, dancing and comedic performances by Musical Theatre Crew's entertaining performers aged 13-16 years.
Once upon a time… a witch's curse condemns a Baker and his Wife to a life without children. They embark on a quest to find the four items that will break the spell – the cow as white as milk, the cape as red as blood, the hair as yellow as corn, and the slipper as pure as gold! Will they succeed? And what happens after 'happily ever after?'
Into the Woods Jr flips the fairytale world on its head, bringing together favourite characters Cinderella, Jack (and his beanstalk), Little Red Riding Hood, a big bad Wolf, a Witch and more into this fun show, ultimately reminding us to be careful what you wish for – as you just might get it!
Season :
Thursday 27 October – Saturday 5 November 2022
Performances :
Thursday 27 October 2022 @ 7:30pm
Friday 28 October 2022 @ 7:30pm
Saturday 29 October 2022 @ 3:00pm (Matinee)
Saturday 29 October 2022 @ 7:30pm
Sunday 30 October 2022 @ 11:00am (Matinee)
Sunday 30 October 2022 @ 3:00pm (Matinee)
Friday 4 November 2022 @ 7:30pm
Saturday 5 November 2022 @ 3:00pm (Matinee)
Saturday 5 November 2022 @ 7:30pm
Doors / Ticketing opens 30 minutes prior to performance.
Duration : 70 minutes | No Interval
This show has double and triple casts. Please book the team that has the performer you wish to see on the booking site! Better still come again and see another team! Full cast details online here
Tickets :
Adult $35
Concession (Children, Students, Concession Cards / Seniors Cards) $29
Family (Good for 4) : 2 x Adults & 2 x Kids OR 1 x Adult & 3 x Kids $115