Disney Frozen Jr
Presented by Musical Theatre Crew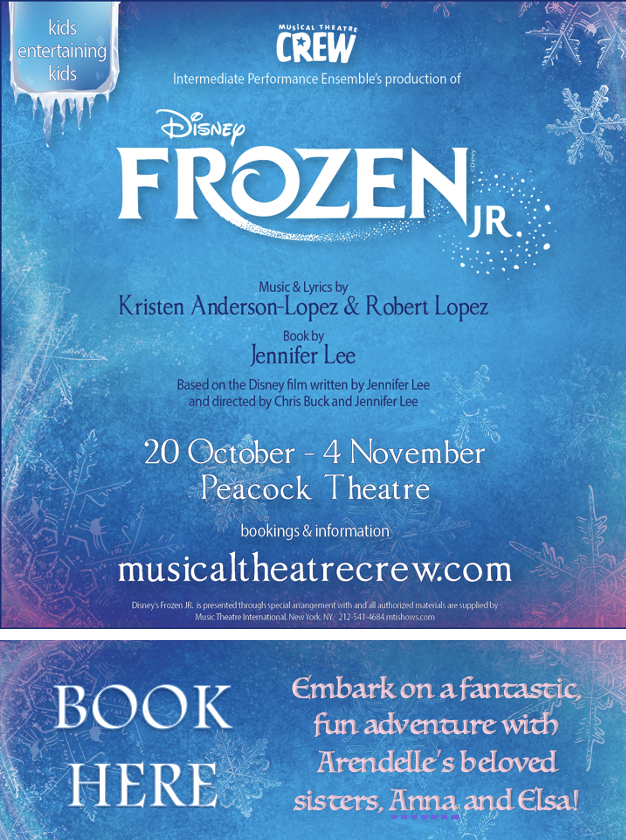 Presented by Musical Theatre Crew
---
Times and dates:
Friday 20 Oct – 7:30pm
Saturday 21 Oct – 3pm
Saturday 21 Oct – 7:30pm
Sunday 22 Oct – 3pm
Thursdat 26 Oct – 3pm
Sat 28 Oct – 3pm
Sat 28 Oct – 7:30pm
Sun 29 Oct – 11am
Sun 29 Oct – 3pm
Friday 3 Nov – 7.30pm
Saturday 4 Nov – 3pm
Saturday 4 Nov- 7.30pm
Tickets:
Adult $35
Concession $29 (child, student, aged, etc)
Family $120 (2 adults & 2 kids, 1 adult & 3 kids)
Embark on a fantastic journey in this fun and heart-warming adventure about Arendelle's beloved sisters Anna and Elsa, proudly performed by Crew's Intermediate Performance Ensemble.
Following the death of their parents in a storm, Elsa locks herself behind walls as she faces her destiny to become Queen of Arendelle while concealing her frightening magical powers. Anna feeling shut-out and lonely, unexpectedly finds romance with the dashing Prince Hans. But when Queen Elsa can no longer hide her terrible secret resulting in Arendelle being plunged into an eternal winter, she runs away to hide in the mountains. Anna sets out to try to rescue her sister, recruiting assistance from ice-trader Kristoff and his reindeer Sven, encountering an array of marvellous characters along the way incuding Olaf the snowman, mysterious Forbidden Folk, ever-happy Oaken and family!
---