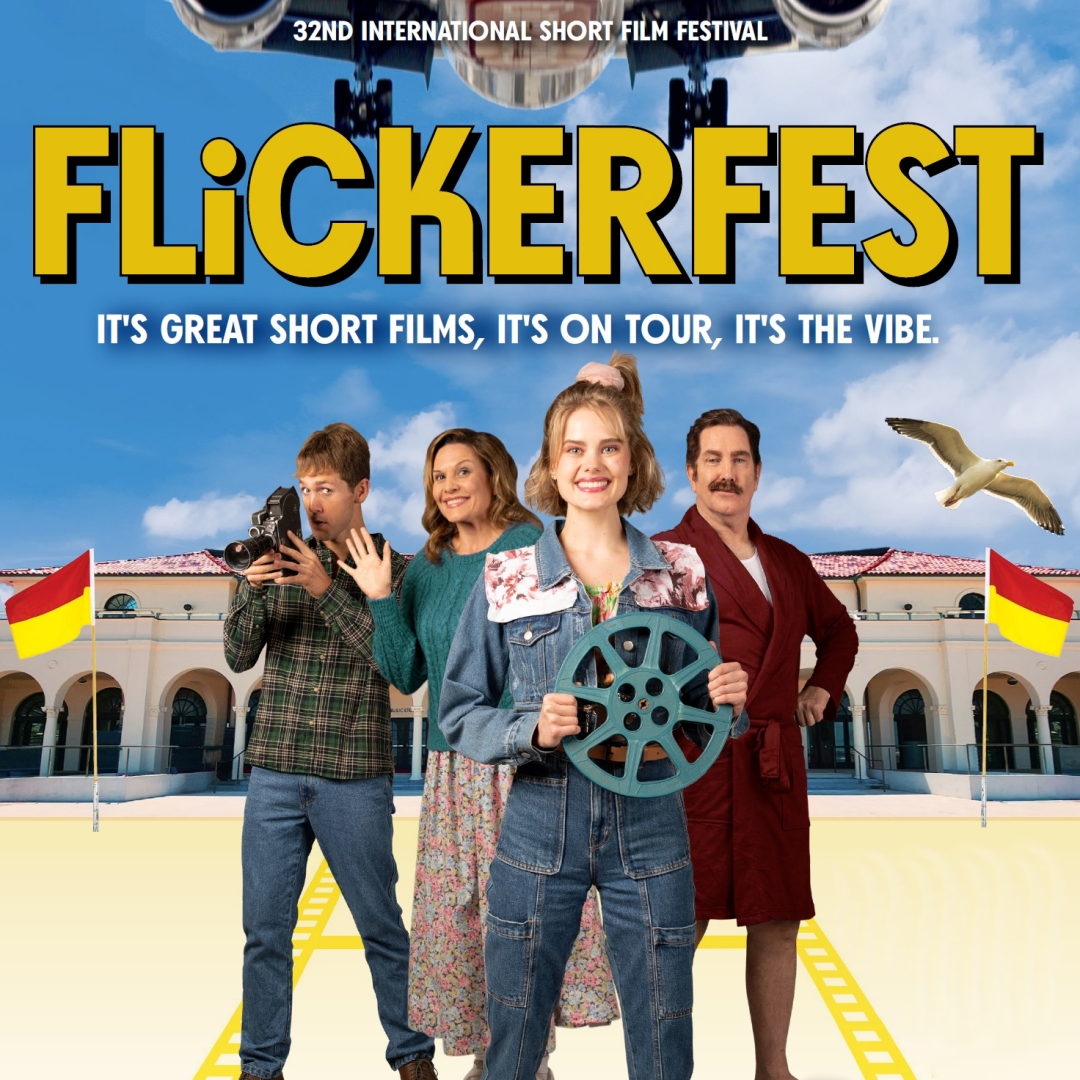 Presented by Flickerfest
---
Times and dates:
14 July 2023 – 8pm
15 July 2023 – 8pm
Tickets:
$17 / $15 conc (each session)
Both sessions: $32 / $28 conc

Tickets also available at the door 30mins prior to screening.
Australia's largest Short Film Festival is excited to return to Hobart, screening the Best of International and Australian Shorts programmes highlights.
These shorts are fresh from their premieres in competition at Flickerfest Bondi, giving audiences a taste of the hottest shorts from home and across the world.
Celebrating 32 years in 2023 Flickerfest remains Australia's leading Academy® Qualifying and BAFTA Recognised short film festival, ensuring that we continue to present A-list short film programmes recognised amongst the best in the world with films hand-picked from the festival's record 3,200 entries!
Flickerfest, Australia's largest Short Film Festival is excited to be returning on its National Tour to be showcasing the Best of International Shorts and Best of Australian Shorts programme highlights, all handpicked from our recent Bondi festival competitions.
The short films screening are all entertaining, inspiring, award-winning and fresh from their premieres in competition at Flickerfest Bondi, giving Hobart Flickerfest audiences a window into the hottest contemporary shorts from at home and across the world today.
On Friday 14th July 8pm enjoy an incredible collection of global stories, as you take a trip around the world from the comfort of your cinema chair with the Best of International Shorts. Amongst a host of international highlights enjoying their Australian premieres are the stunning Danish drama 'IVALU' that follows the intimate story of an inuit family in the vast landscapes of Greenland and the delightful and surprising Canadian animation, 'The Flying Sailor', by a power duo of Female canadian animators, both films were recently nominated for an Oscar.
The Best of Australian Shorts programme, screening on Saturday 15th July, 8pm shines a spotlight on the incredible short film talent that exists in our emerging Australian industry, with a host of Australian stories honoring our unique identity and culture.
Highlights include Tassie films, fresh from their Flickerfest premieres, by talented creatives who grew up in Tassie and films shot across the state. The moving drama 'Game Face, by writer/director Gillian Crosby, who grew up in Hobart, is co-written with her mum, based on her mum's experiences of a confidence workshop for cancer patients where a woman gains a fresh perspective from a colorful group of characters. Fun coming of age story 'Pulsar', by Hobart born and raised Gabriele Morrison is shot in Primrose Sands and doesn't stray too far from the truth of some experiences Gabriele had growing up in Hobart in the early 2000's. Director Danielle Baynes, who was awarded the BRUNY20 Artist Fellowship, shot her short film 'Ghost Gear' on Bruny Island, utilizing local cast, crew and the stunning landscape, this dramatic story follows two fractured parents and their adventurous 8-year-old are haunted by a surprising discovery on a family holiday.
Our Tassie Flickerfest films screen alongside other Australian highlights, including 2023 Award winners, the colourful and insightful Torres Strait cultural drama 'Katele' (Mudskipper), about a woman longing for her island home, which won the Best Australian Short Film Award at Flickerfest 2023, shining alongside the winner of Flickerfest's Best Australian Animation 'Teacups', based on the moving true story of a man whose compassion and ability to listen over cups of tea saved many lives and don't miss 'An Ostrich Told Me the World is Fake and I Think I Believe It,' a delightfully quirky story of a toaster phone salesman whose world is turned upside down after the visit of a mysterious stranger, recently nominated for an Oscar for Best Short Animation.