The Courtyard
Events
Launches
Outdoors
Performances
Private Function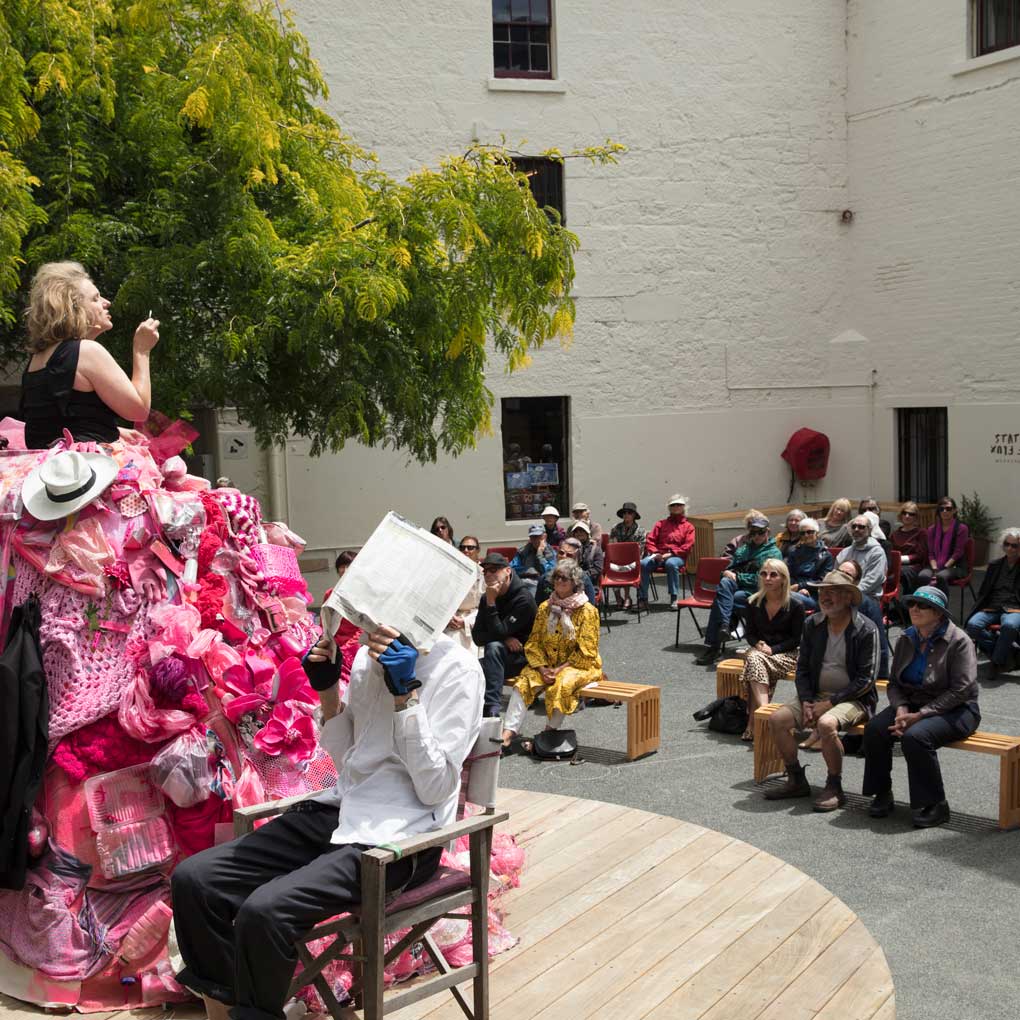 The Courtyard is located at the heart of Salamanca Arts Centre.
The perfect place to sit and relax during the day.
The back wall of The Courtyard is a natural rock face, creating a unique backdrop for arts activity. The same rock face continues into the adjacent Peacock Theatre.
The Courtyard has been used successfully for theatrical and dance performances, music recitals, Salamanca Arts Centre Resident Markets, film screenings, and cabaret. And for the past 20 Years has been the primary venue for the weekly Friday night live music event, Rektango.
In 2019, with the assistance of Independent Member for Clark, Andrew Wilkie MP, Salamanca Arts Centre was awarded a Federal Government Regional Development Grant to make improvements to the Salamanca Arts Centre Courtyard. Major renovations were completed in 2020 aims to improve the visibility and accessibility of tenancies around the Courtyard. Automatic doors have been installed, along with more glazing and track lighting. The peacock feather-shaped platforms invite a greater variety of art forms. The state-of-the-art sound system and outdoor theatre lighting will create an unforgettable audience experience. Salamanca Arts Centre commissioned projects in public art and furniture design. Floating against the rock face is Escape Pod, a work by Colin Langridge inspired by a maritime escape pod. Embedded in the paving is a stainless-steel peacock feather by Gerhard Mausz above which are custom Sassafras timber benches and tables designed and made by Paul Allen.
New Venue Information Kit available for download soon.
Venue Hire Rates
Pop-Up Performance / Event
$85 per Hire (GST Inclusive)
Daytime | Non-Exclusive Hire
Evening Public Performance / Event
$210 per Hire (GST Inclusive)
Evening | Exclusive Hire
Evening Private Event
$330 per Hire (GST Inclusive)
Evening | Exclusive Hire
Includes all non-Arts Events, Private Functions, Corporate Events
All prices are inclusive of GST and are effective from 1 January 2024.
Applying for The Courtyard
Salamanca Arts Centre assesses applications for The Courtyard on an ongoing basis with rolling applications throughout the year and applications are only sought for the current year.
Applications are sought for the remaining dates in the 2023 and 2024 Calendar, for performances, concerts, workshops, corporate events, private functions and more!
Please note: Many months are already heavily booked.
Availability
Due to the location of The Courtyard and the significant sound bleed between the adjacent venues, the availability of The Courtyard is pending the bookings and scheduled activity in the adjacent venues (Peacock Theatre, Founders Room, Sidespace Gallery, Long Gallery). An event cannot occur in The Courtyard if there is already an event scheduled in an adjacent venue.
There is a live music event (Rektango) in the Courtyard every Friday evening between 5:30pm – 7:30pm.
The Courtyard is not available to hire during Rektango.